Our Facility is 209,000 square feet, with 54 Truck Doors, and easy Access to I-5, I-90, I-405.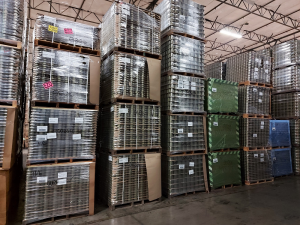 STI is a full service warehouse and distribution facility. Our 209,000 sq ft warehouse includes storage, labeling and packaging machinery, and a busy shipping dock. Warehouse space is available for your quality control projects, display setups or other type of fulfillment needs. Inbound and outbound ocean containers are a normal activity, as well as full truckload and less than truck load quantities.
---
As a privately owned warehouse, we offer flexibility and are able work with you to find cost savings methods for an efficient distribution flow. Let us know your requirements and let our experienced staff help you. Our traffic manager (with over 25 years of experience) will assist you with documentation both for domestic as well as with international shipments. Our labeling manager knows food can labeling, repackaging, and case markings for both the domestic and international markets. Our forklift drivers are knowledgeable in both loading configurations as well as the safety issues required when dealing with a large variety of products, not just canned foods.
STI is a registered Food Facility under the Homeland Security Bioterrorism Act. We are also a licensed food warehouse with the state of Washington, and inspected by SPA and FDA. We are a forward warehouse for the canned salmon industry, labeling, casing, and distributing over 4,000,000 cases of salmon annually.
---
Inventory control and tracking requirements are an essential and intricate need in the food industry and especially the canned fish industry. STI operates at these standards daily and offer lot code accountability, BBE date and serial number tracking. [see Labeling Services] We will work with you to meet the type of inventory control and type of printouts your company desires.