Our origins date back to the end of WWI, when two brothers, Jim and Roy Puckett, founded the Puckett Company for the sole purpose of labeling canned salmon shipped from Alaska's canneries to warehouses located throughout the Seattle area. The Puckett brothers transported their machines from one warehouse to the next, labeling cans on site.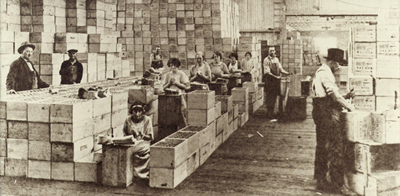 A decade later – in 1929 – seventeen of Alaska's canneries joined forces to create one central facility here in the Puget Sound area responsible for receiving, storing, and distributing canned salmon to the major markets of the world. This facility was called the Salmon Terminals. The Puckett Company was retained to label the product at the Salmon Terminals
The Salmon Terminals first home was located at Piers 24 and 25 along the Seattle waterfront at about Spokane St. and Marginal Way.
Salmon Terminals remained a cooperative warehouse for almost 30 years until members were bought out by Olympic Steamship Company. The Puckett Company retained ownership of the labeling operation until 1973 when, after more than 50 years labeling canned salmon, the Puckett Company sold its interest in the labeling equipment to Olympic Steamship.
From 1966 to 1983 Olympic Steamship Company operated Salmon Terminals from West Seattle next to Pier 5. In the spring of 1983, Salmon Terminals moved to its current location in Kent.
On July 1, 1987, the equipment of the Salmon Terminals division of the Olympic Steamship Co. was purchased and a new Washington corporation —Salmon Terminals, Inc. — was founded.
In July, 2006 we moved into our current warehouse on the border between Kent and Auburn.
---
While our mission remains the same as the Puckett brothers and the original co-op members for our salmon business, the volume of salmon that passes through our hands has greatly increased, as well as the level of quality control.
Modern technology allows us to cope with that increase. Our computerized bar coded pallet tag system, developed for the salmon industry by Salmon Terminals, allows us to track each pallet of salmon from the time it leaves Alaska until it leaves our warehouse for its final market. Our high speed labeling lines are computerized to record the output from machines that measure can end deflections and weights as that equipment screens out cans with potential defects before the product is labeled.